Aspiring foodie, Lianne McLaughlin, whips up our healthy recipes to find out if they taste as good as they look. This week's recipe: Zucchini and Corn Tacos.
Hi DoGooders!
I hope everyone is looking forward to an amazing 4th of July weekend filled with family, friends, fabulous weather and delicious, healthy food.
After what I'm sure will be a long string of barbecues I am looking for a healthy vegetarian option to round out the weekend.
I had some left over corn on the cob from a recent cookout and was craving Mexican. Enter Zucchini and Corn Tacos. This authentic Mexican dish was created by chef Jimmy Shaw and featured in SELF magazine.
Sauteing fresh corn kernels in hot oil gives the base of the dish that great smokey Mexican flavor. You continue to cook the onions, garlic, tomatoes and zucchini in the same pan- making for easy clean up. Be sure to keep the heart low and take your time allowing all the flavors to really integrate.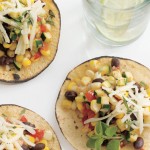 I served the tacos on warm whole wheat tortillas with Salsa Verde and fresh graded Monterey Jack cheese. Round out this healthy and flavorful meal with brown rice and a simple green salad.
Whip up these Zucchini and Corn Tacos and let us know what you and your family think!
Until next time,
Lianne
If you enjoyed this article, please consider sharing it!
Archives

Share the DoGooder with your Friends