Aspiring foodie, Lianne McLaughlin, whips up our healthy recipes to find out if they taste as good as they look. This week's recipe: Pumpkin Soup.
Hi DoGooders!
This twist on traditional pumpkin soup will have even non-pumpkin fans refilling their bowls. Coconut milk adds great depth to the flavor and jalapeno adds a little heat.
I love this recipe because you can find most of the ingredients locally, especially once we get closer to fall. The recipe also calls for low-fat coconut milk, which keeps down the calories without compromising flavor.
You can control how spicy the soup is by using as little or as much jalapeno as you like. Just be sure to finely chop the pepper or you will end up with pieces of jalapeno burning up your mouth. In a pinch, you could use red pepper flakes in place of the jalapeno pepper.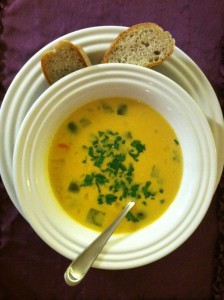 As written, this recipe will yield a medium-thick pumpkin base with chunks of pepper, carrot and onion. If you prefer a thicker consistency, pour into a blender or food processor and pulse a few times. Your end result will be more of a pureed consistency.
This soup makes a great starter or side dish to any meal. Leftovers are great for lunch the next day. Be sure to have some nice crusty bread for dipping.
Enjoy the soup and let me know what you think!
Until next time,
Lianne
If you enjoyed this article, please consider sharing it!
Archives

Share the DoGooder with your Friends