Written by Hanna Lee
The All Stars Project, Inc. (ASP) is a nonprofit organization dedicated to youth development and creative cultural programming for inner city kids. ASP provides thousands of poor and minority young people the opportunity to broaden their horizons through performance, the arts and internship opportunities. This year, the nonprofit celebrates its 30-year anniversary as they continue their mission to end poverty and change the world- one at-risk child at a time. Development Officer Antoine Joyce and Annual Campaign Coordinator Jenny Zak came to ASP through different paths, but their devotion and excitement about their work is equal.
Joyce joined the All Stars Project in 1991 as a teen living in Bed Stuy, Brooklyn. His cousins were part of a dance group at the time and Joyce became enamored by their perceived "fame" of performing on stage.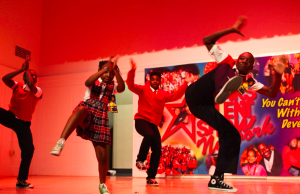 "When I was in junior high, I went to an all-black public school and was the smart kid," recalls Joyce. "I got to the diverse high school early and wasn't as smart as I thought." Joyce's course load was much harder than he previously encountered.  Discouraged, Joyce contemplated joining a gang to help fill the void of his lost identity as the smart kid. "When my cousin allowed me to be a part of their group, it saved my life in a sense," said Joyce.  He explains how ASP expanded his world beyond his environment and allowed him to be on stage and volunteer.
This eye-opening experience is what ASP offers to all youth participating in their programming. In 1996, Joyce joined the production team as a youth producer, advanced to become a national producer and was essential in the nonprofit's expansion into Newark, Atlanta, San Francisco and Chicago. After briefly leaving ASP, he returned as the Development Officer and raises thousands of dollars each year for inner-city youth programs.
Ukraine-born Jenny Zak also grew up in Brooklyn, NY. As an immigrant, she was motivated by the prospects of the American dream. Zak worked incredibly hard during high school and achieved her goal of attending college.   During the summer of 2004, she heard about the All Stars Project through a friend and immediately connected with the organization in hopes of volunteering. While attending Columbia University, Zak continued her involvement with ASP and ran their college internship program.  After graduating college in 2009, she was hired as a full-time ASP staff member. "These last 30 years showcase a generation of people stepping up to do something," says Zak.  "Earlier this year, Antoine and I created a 30th anniversary celebration themed around this idea of 'Generation: Give Back'. We are excited to step up as leaders of a younger generation to move everything forward and reach even more young people" Currently, ASP reaches 10,000 inner city kids every year.
The nonprofit's flagship program, The All Stars Talent Show Network, showcases children and teens (ages 5-25) in talent shows and workshops. The afterschool program is performance-based and enriches youth by involving them in auditions, rehearsals, talent shows and performance workshops.  The program takes place in local school auditoriums and at the All Stars Project headquarters on 42nd Street in New York City.
Additionally, ASP offers a leadership-training program called The Joseph A. Forgione Development School for Youth (DSY). Young people, between the ages of 16 and 21, take part in a semester program where they participate in public speaking workshops to empower them to give a presentation. At the end of the semester, they are placed in paid summer internships at partnering companies like JPMorgan and Ernst & Young.
ASP's Youth Onstage! also offers young people (ages 14-21) the chance to perform on stage in plays that say something about the world and its future. "When they graduate, they get the opportunity to be in a production at one of our spaces," explains Zak. "The young people love to go through the whole process of putting on a performance. ASP supports them so they can have these experiences to boost their self-esteem."  ASP's only requirement is that participants must be on time for their audition and interview.
ASP's performance-based model empowers participating youth and provides a much-needed refuge from the streets. Joyce reflects on how many young people simply try to get by and have lacked real aspirations prior to joining the All Stars Project. "When young people gather together after school with nothing to do, they get into issues," explains Joyce. "The All Stars Project gives them a place to come to every day after school."
Privately funded, ASP has grown dramatically and has raised a total of 7.3 million dollars. In 1990, the organization's budget was a mere $200,000. Their now expansive budget allows Zak and Joyce to fund as many performance-based programs for youth as possible. "We encourage youth to do something unfamiliar every day," advises Joyce. "If you're uncomfortable then you're probably doing something right because new experiences are how you grow." The All Stars Project's mission statement was built around a plan to end poverty and change the world. "We were built on two very idealistic ideas, but I believe you have to think big in order to do big things," says Zak. "Young people shouldn't be intimidated, always push yourself to do more."
To make a donation, visit www.allstars.org/donate or contact Jenny Zak at jzak@allstars.org. To get involved or to join the Young Leaders for Change Campaign, contact Antoine Joyce at ajoyce@allstars.org. To find out more about the ASP visit www.allstars.org
If you enjoyed this article, please consider sharing it!
Archives

Share the DoGooder with your Friends