Written by Hanna Lee
Florida State University Head Football Coach Jimbo Fisher and his wife, Candi, first realized something was wrong with their son, Ethan, on a family trip to Alabama in December 2010. Candi took little Ethan to an urgent care center where they ran tests that indicated Ethan's blood plate count was abnormally low. After doctors insisted on more tests to verify it wasn't a sign of a serious illness, the Fishers' worst fears were realized. Ethan's tests revealed that he had a rare blood disease called Fanconi anemia (FA).
Today, May 1st, marks the third annual international Fanconi Anemia awareness day. FA is a rare genetic disease that effects 1 per 350,000 births and causes a defect in a cluster of proteins that are responsible for DNA repair. As a result, the majority of FA patients develop cancer, most often acute myelogenous leukemia, and 90% develop bone marrow failure (the inability to produce blood cells) by age 40
Immediately, Ethan's brother, Trey, was tested to see if he had the disease and if healthy, determine if he could potentially be a bone marrow donor to his brother. Luckily, Trey's results were negative, but he wasn't a bone marrow donor match. Overnight, the family's life changed forever and they were left to pick up the pieces.
"We started visiting doctors and we found some in Minnesota who were making advances to understand this disease," recalls Candi. "We've developed an incredible relationship with them because they gave us hope when we didn't know what we were up against." However, the Fishers soon realized the doctors' research was underfunded, and they needed much more money to continue their advancements in finding a cure for FA that could save Ethan. It was at that moment when they knew they had to do something that would not only help their son, but also help the many others affected by Fanconi anemia.
Utilizing Jimbo Fischer's spotlight as Head Coach at FSU's Football program, Jimbo and Candi were determined to raise awareness about Fanconi anemia. Together, the Fisher's started the Kidz1stFund, which provides support to families affected by FA through education about the disease and financial support for Fanconi Anemia research with the goal of finding a cure.
Because FA is an extremely rare disease, the Fishers main goal was to use their voice and raise awareness for those who don't have the platform that they have. Additionally, Kidz1stFund promotes individuals to register for the bone marrow registry since bone marrow transplants are essential in treating FA, as well as 70 other diseases.
Since launching the charity, Candi has encountered many other families who share the Fisher's pain through a similar experience. After announcing the Kidz1stFund launch at press conference, Candi worried that it would invite attention to Ethan's specific condition and retreated to her families' home in Alabama. Three days later, she signed online and was shocked to discover the fund's PayPal account had already raised $30,000. "I was getting thank-you emails from people saying 'my son has this disease and no one knows much about it and talking about your struggles gives me hope as well'" says Candi.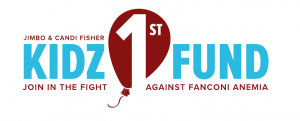 Since Fanconi anemia is a genetic disorder, the Fishers have encountered families through Kidz1stFund who have multiple children with the disease. Each parent carries the recessive gene, and every child they produce has a 25% chance of developing the disease and a 50% chance of being a carrier. "I receive lots of emails from parents telling their stories, and I try to respond to all of them so they know someone is really listening," says Candi. "It also helps me because their kids are sometimes further along in the treatment process and I can learn more of what to expect
 it forms a small support network."
15 years ago, a child with FA without an unrelated bone marrow donor only had a 15% chance of survival. Today, there is an 80% chance of survival, but Ethan's doctors want to change that statistic to a 100% survival rate. "We're hopeful that raising money will help Ethan and other children who don't have a sibling match," declares Candi. "FA affects every cell in the child's body, making them more susceptible to certain types of cancers at a young age and has a hard time fighting it off because their cells can't repair themselves properly." Kidz1stFund's mission is to raise enough money for research to find the gene that causes FA so they can revolutionize treatment and also possible lead to breakthroughs in understanding what causes other types of cancers.
"We started Kidz1stFund to fund research for Ethan and other people like him suffering with this little-known illness," says Candi. "Even though discovering Ethan's illness has put our family through a lot, the great joy that came out of this is being able to speak for those other kids with FA who can't speak to the media and get the word out themselves. It's about raising awareness and hopefully someday finding a finite cure."
If you enjoyed this article, please consider sharing it!
Archives

Share the DoGooder with your Friends