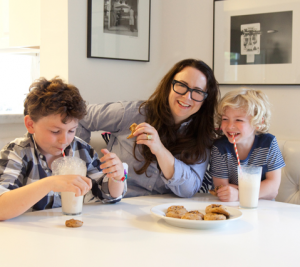 Written by Hanna Lee
As a working mom, Meredith Alexander loves caring for her two young sons, but realized early on that she didn't want to spend every moment together attending birthday parties or soccer games. Instead, Alexander was hungry for meaningful experiences that she could share with her kids, "I wanted to have experiences that would reinforce the values our family feels strongly about, namely giving back and reading," recalls Alexander.
In 2004, she decided to throw a birthday party at her local children's bookstore. She coined the name "Milk + Bookies" for the event,and asked all children in attendance to select a book to give to a local child who doesn't have bedtime stories of his or her own. She asked all the kids in attendance to inscribe a bookplate. While most could only scribble with a crayon, Alexander stuck all of the bookplates in the front of the books and the children dropped each of their books into a box for a local recipient group. Now, eight years later, Milk + Bookies is a nationwide charitable organization that inspires children to give back, using books as its currency.
Alexander explains children are constantly being told what and what not to do, and Milk + Bookies instills to a small child that he or she can really do something big and meaningful. "In the hustle and bustle of our day to day over-scheduled lives, it is hard to find those gem-link moments when you know a positive imprint has been made on your child," says Alexander. "If properly watered and fed, the seed of giving will continue to grow in the most incredible ways and the ripples in the pond continue to reach farther and farther." She believes once these small children recognize they are capable of giving and helping others, they feel empowered
Milk + Bookies offers a book-raiser "tool-kit" to easily implement an event at your own birthday party. The "Bookies Box" is $30 and is a party-in-a-box framework for the event, which is digestible and doable for teachers and parents who are too busy to create it themselves. The Bookies Box contains all of the materials you'll need: bookplates, book marks, donation box signage, literature to talk to kids about giving. The organization also helps in finding worthy recipients in your local community.
Barnes & Noble and Scholastic are just a few of the notable corporations that have partnered with the nonprofit and provided support Milk + Bookies' win-win mission. "It is a win for kids giving a book and a win for kids receiving books. The concept is simple and it works," declares Alexander. "By being a nonprofit with literacy partnerships we can really reach a lot of children." Additionally, a significant amount of celebrities have gotten behind the Milk + Bookies cause. Most notably, FOX's New Girl star Max Greenfield led a Soul Cycle spin class where the contributions went towards Milk + Bookies. "Max is hysterical, generous and the guy you'd always want on your team. We've been truly lucky that our program has clicked with so many people," says Alexander.
Alexander believes most
parents need some guidance in providing worthwhile experiences for their children that are bigger than themselves. Some of these well-intentioned and socially responsible parents happen to be actors and musicians in the public eye. "We are forever grateful to our celebrity supporters who our organization with their fans and we feel unbelievably lucky to have the support of generous and talented people like Gwen Stefani, Jennifer Garner and Jack Black," Alexander gushed. She says it certainly helps to have celebrity exposure so the rest of the country can learn about us and how to get involved.
Every spring, Milk + Bookies hosts their annual fundraiser, "Story Time Celebration," In Los Angeles. The event celebrates magic, whimsy and a love of children's books. Actors dress up as beloved classic storybook characters and serve cookies and milkshakes. "Our fundraiser celebrates how a story can take you places you never have imagined and give you the roadmap to dream bigger than you ever thought you could," describes Alexander. She says the most important part of the fundraiser are the thousands of books guests can choose onsite, inscribe and then drop in a huge treasure chest for local kids in need. "This is the moment our young guests ring a brass bell, receive their "I DONATED" badge (sticker) and feel good about what they are doing," she explains.
Alexander hopes her two sons will catch the fever and become givers on their own. "Being a working mother is always having a foot in both worlds (job and family) and wishing you could give yourself to whichever world you're in at that particular moment," she explains. "I'm just thankful my job requires a lot of bedtime story research." For Alexander, witnessing the sense of pride on participating children's faces is her favorite part of Milk +Bookies. "On a personal level, the passion I have for instilling children with the power of giving is so powerful that I can not imagine working so hard for any other cause," she says. "When a small child understands deeply that they have just made a difference in the life of another child, it is profound."
If you enjoyed this article, please consider sharing it!
Archives

Share the DoGooder with your Friends