The Modern War Widow: walking through the grief side by side
Written by Hanna Lee
Taryn Davis met her husband, Corporal Michael Davis as a high school sophomore. He was a senior and pursued her with determination. She describes their love story as "simple," and– despite her dislike for romantic comedy clichĂ©s–she knew she was meant to share her life with him.
When Michael left for college, he seemed to have lost his direction in life and wasn't fulfilled. To the surprise of everyone, Michael joined the Army. Davis recalls thinking at the time that war was something far away involving statistics, politics and death. "When I asked him, 'why are you doing this?' He said, 'I don't have passion for anything besides you. I didn't want to feel like I was just meeting school criteria, and I want to be challenged," recalls Davis.
During his 4.5-month training, Davis wrote him a letter every day. Through their letters, she watched Michael transform from a boy into a man who just wanted to help others. After training, he was stationed in Anchorage, Alaska. Not able to stand the distance, Davis told him she wanted to go with him. He immediately proposed.
In December 2005, the couple married in Austin, Texas and moved to Alaska two days later so Michael could pursue his airborne training. Not even a year later, they learned Michael was going to Baghdad, Iraq. Saying goodbye was hard for Davis, but she flew back to Texas to finish school and fell into the groove of being a military wife. "As a military wife, you learn to build your relationship not off physically being together but off verbal communication or reading a letter."
On the morning of May 21, 2007, Davis was talking with Michael via AOL Instant Messenger when he abruptly told her he had to go. Michael never discussed his missions because he didn't want her to worry. But, she knew he was headed off on a mission and quickly said to him: "Be careful, I love you more than life itself."
An hour and a half later, Michael and his men were killed by multiple roadside bombs and died instantly. Nine-hours later at her parent's house, Davis received a phone call from her neighbor telling her to come home as soon as possible. She immediately sensed something was wrong by the tone of his voice and panicked
"The drive home was the longest 10 minutes of my life. I saw two men in military uniforms as I got out of the car and walked up shaking," recalls Davis. "One of them said, 'The secretary of defense regrets to inform you
' and then it all went blank. I just started dry heaving, crying and screaming that my baby was gone. I kept waiting for a Johnny Cash/ June Carter moment where I'd just die because I couldn't live without him."
In that moment, Davis became a 21-year-old military widow. The officers handed her a binder titled "In the Days Ahead" that detailed how to plan his funeral, write his eulogy and obituary. It felt very procedural to Davis.
In Michael's obituary, she shared the now shattered dream they'd envisioned for their lives. Davis wrote: "He and his wife had plans of traveling the world together, swimming with sharks and starting a gorgeous family."
Davis grieved deeply and struggled as those around her found it easier to move on with their lives. She turned to the military resources that were provided to her, but found them too candy coated or focused on seminars and speakers discussing grief. Davis made the decision to fight her isolation and throw herself out there to change course, "I knew I had to try for Michael. I had to try to live for him so his story would be remembered," Davis reflects. "I needed to search for some meaning, and I wanted another 20-something widow to stand in front of me and understand what I was going through."
Davis set out to make a documentary about military widows and reached out to the widow of one of the soldiers killed with Michael. Davis wanted to document on tape how other women survive after such a loss and get up in the morning. The interview was painful and difficult, but Davis noticed something on film that gave her the motivation to continue. "While these women were recounting such painful moments, they were also recounting their love for their husbands," she explains. "There was this gleaming twinkle in their eyes that I recognized in myself in pictures of me with Michael," says Davis. "I didn't know if I'd have it again, but I knew in that moment I wanted to start a nonprofit."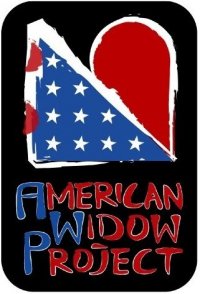 Davis jokes that she started The American Widow Project (AWP) out of pure selfishness. She wanted to create what she couldn't find: a space where stories could be shared through emails, a hotline connecting widows to share their stories and events that weren't about singing kumbaya but about taking adventures. "I wanted to show these women how to smile and laugh again by showing them they have something to look forward to," says Davis.
Currently, AWP serves 915 widows and has hosted 17 events around the country. As of today, 6,026 soldiers have died in Iraq or Afghanistan. More than half of those soldiers left behind a spouse. "I think our society is getting tired of these wars," reflects Davis "When the numbers of the dead get larger, those lives are getting jumbled and people become non-responsive to it."
Davis says AWP's mission is to create a community of this generation's widows to share their stories and help each other ease their pain of losing a loved one in combat. Michael's death was the worst thing that has ever happened to Davis, but she acknowledges that it has liberated her from fear. "It made me realize that life is so finite and could be taken away at any moment," says Davis. "I lacked the resources to cope and wanted to be able to take a step forward to make it better for another widow. Finding resiliency is difficult when you suffer a tragedy, but you don't need to forget it happened. You can use it as fuel to help others and yourself."
If you enjoyed this article, please consider sharing it!
Archives

Share the DoGooder with your Friends