Browse:
Home
/
In The News
/
Jamie Olilver's Food Revolution: Spaghetti and Meatballs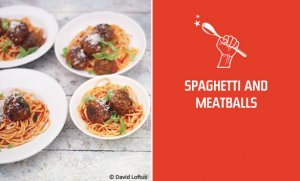 Meatballs are fantastic! They're perfect like this, with a homemade tomato sauce and spaghetti, but you could also try them with rice, mashed potatoes, polenta, or simple chunks of fresh crusty bread. I like to make meatballs with a mixture of beef and pork, as I think it gives a really wonderful flavor and texture.'
If you enjoyed this article, please consider sharing it!
Archives

In The Spotlight

Cobbie's Sauce Gives Back Through a Family Recipe

"You have to constantly give your best and raise the bar personally and professionally. We see this played out daily at the Shepherd Center, which continues to make a difference in our daily lives." -Betty Hulse

Featured Blog

DoGooder Taste Test

Aspiring foodie, Lianne McLaughlin, whips up our healthy recipes to find out if they taste as good as they look. This week's recipe: Pumpkin Soup.

Share the DoGooder with your Friends